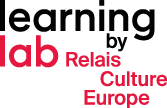 Registration is currently underway for our training programs.
i-team 2019-20: registration until June 30
i-d - June-July session: registration until May 15
The Learning Lab of the Relais Culture Europe is a real laboratory of European experiments, which helps you to go far beyond the objectives you have set yourself... both professionally and individually! All this can be validated by a certification of Capacity for Cultural and Social Innovation, delivered by an independent jury.
Please contact Noémie Eckert for more information.