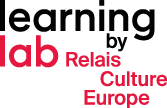 The 3rd week of i-team 2020-2021 began on Monday, February 1. The first 2 weeks, at the end of 2020, punctuated by discussions, exchanges of resources and ideas, meetings with cultural actors in Europe and beyond, allowed the group to identify common issues and avenues for reflection.

This 3rd week allows the group to continue its exchanges and to anchor them in a relationship to their practices, a relationship to the notion of praxis, where the how to act is as important as the purpose of the action.

Among the week's meetings: Maya Ouabadi, founder of Motifs, which publishes the bilingual (French-Arabic) literary criticism journal Fassl, a journal that offers in-depth reviews, interviews and portraits of Algerian and foreign authors, as well as unpublished texts. This meeting provided an opportunity to reflect on the importance of speaking out and making little-heard voices heard.

Accompanied by Shelly de Vito and James Porter, founders of the art center Les Moulins de Paillards, the participants also worked on the realisation of sound essays addressing these reflections.