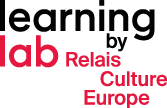 Learning Lab by Relais Culture Europe also offers tailor-made training courses.
These tailor-made trainings, we co-construct them with you and we adapt them to your structure, its activity and the specific and identified needs of your teams.
Associations, companies, NGOs, institutions... we provide you with keys to understanding European realities and cultural, artistic, strategic and political issues. All this with formats designed to meet your needs and innovative and continually renewed teaching methods.
They trust us
ARTE
Institut des Cultures d'Islam
Institut Français
La Belle Ouvrage
Philharmonie de Paris
Syndeac
---
Interested? Please contact us!