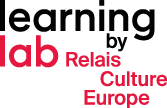 An annual 6-week training across Europe to strengthen our capacities for European cultural and social innovation
How are cultural projects managed in Kiev? How does collective thinking arise among cultural actors in Palermo? What Europe is being born in the streets of Sarajevo ? What resources have to be brought into play to mount a project in Nicosia? How can a European cultural project design and bring about another vision of Europe, more human and democratic?
The itinerant training of I-team takes you on a real European adventure: new practices, experiments, deeper thinking about the links between culture and territory, between culture and politics...
The training takes place over the period of one year and consists of 6 weeks, each of 1 week, taking place in several European cities.
6 «steps» to question ourselves, open up to new perspectives, imagine new resolutions to problems and construct new European cultural projects.
With i-team, develop your field of competences and transform!
This programme may participate in the "European Social and Cultural Innovation Capacity" certification scheme awarded by an independent jury.
210h
15 to 20 participants
Languages: French and English
Certified course
Pedagogical cost: 6.600 Euros
Contact us for a personalized estimate
2 - 6 November 2020 - EUROPE
7 - 11 December 2020 - PARIS
1 - 5 February 2021 - EUROPE
29 March - 2 April 2021 - EUROPE
10 - 14 May 2021 - PARIS
21- 25 June 2021 - EUROPE
4 - 8 October 2021
15 - 19 November 2021
13 - 17 December 2021
21 - 25 February 2022
11 - 15 April 2022
30 May - 3 June 2022
(The subtitles may not be displayed automatically, please click on Video Settings > Subtitles > English)