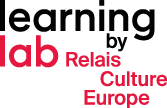 A 2 x 3-day training programme, to explore new avenues of cultural action with high European added value.
You are seeking to develop a new professional project, linked to cultural innovation, but you do not know which creative method to follow? You think that Europe and its challenges constitute an unparalleled territory for experiment and transformation?
And if you came to rub your ideas and doubts up against those of other actors in cultural projects? Over 2 sessions, each of 3 days, you will discover emerging practices and you will work collectively, to shape together viable cultural projects, that convey sense and transformation!
During these 6 days of training and exchange, you will develop four types of indispensable competence for the success of your European cultural projects.
42h
10 to 15 participants
Language: French & English
Certified course
Cost: 1.800 Euros
Contact us for a personalized estimate
April - May 2021 session:
    Module 1 : Wednesday 7 to Friday 9 April 2021
    Module 2: Wednesday 5 to Friday 7 May 2021
June - July 2021 session:
    Module 1 : Wednesday 9 to Friday 11 June 2021
    Module 2: Wednesday 30 June to Friday 2 July 2021
November - December 2021 session:
    Module 1 : Wednesday 3 to Friday 5 November 2021
    Module 2: Wednesday 1 to Friday 3 December 2020
(The subtitles may not be displayed automatically, in this case please click on Video Settings > Subtitles > English)