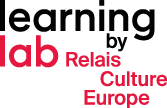 Advisor on cultural and pedagogical innovation, Paris
A career path at the crossroads of several professions in the field of the living arts allows her to take up the challenges of artistic creation and cultural practices, both in their support and in the search for new working environments and forms of cooperation.
Agnès Henry has been leading the extrapole project since 2007. Created as an artistic and cultural production agency, extrapole is now evolving into a structure that supports intercultural and trans-practical experience at the crossroads of art and social sciences. extrapole develops companionships, artistic experiments and cooperation projects on a European and international scale.
At the same time she teaches cultural project engineering in the Master of International Cooperation in Paris 8 (UFR arts 2015- 2019) and cooperates with the university on educational innovation programmes (UP8: CREATIC, MIP ARTEC 2015-2020, University of Melbourne 2019, University of Belgrade 2020) and occasional interventions (Sciences PO Lyon 2010-2013, ICP Paris 2018-2020).
As a doctoral student, she is attached to the sociology of arts and culture sub-axis of the "Scènes du monde, création et savoirs critiques" research laboratory at Paris 8. She is conducting research on Contemporary perspectives of artistic practice in relation to cultural practice considered under the paradigm of cultural rights.
She has been collaborating for several years with the Relais Culture Europe (Creative Europe Days, nursery evaluation, Euro-Asian cooperation, etc.) and is currently developing the process of supporting the certification of the "European cultural andsocial innovation capacity" proposed by the Learning Lab of the Relais Culture Europe.