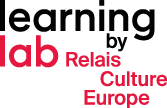 A training offer unlike others, aimed at people working on cultural projects from any sector, who would like to view things through a European prism.
Unlike others : in what way ? 
Because, for Relais Culture Europe, training goes way past classical teaching methods based on rigid programmes. Learning Lab is also, and above all: 
A place for thinking
An enabler
An accelerator of ideas
A catalyst
A support
A source of solutions
In summary : a real laboratory for European experiment, that helps you go well beyond the objectives that you had set yourself... to professional and individual plans ! And the whole thing can be recognised through a certification of capacity for cultural and social innovation, delivered by an independent Board.
Specifics of Learning Lab
Training in innovation that places Europe at the heart of thinking. With us, you will not just learn about how to manage projects or the way European institutions function. Our offer is elsewhere: it is abouts rethinking the modes and logic of our work, by opening our eyes to new horizons on a European, indeed global, scale. At stake: the emergence of innovative projects and social and cultural responses, while constantly aiming for the upsurge of a Europe of greater optimism and solidarity.
Beliefs of Relais Culture Europe 
If Europe was no more than the sum of its states, economies and institutions it would waste away. Behind Europe there are clear values and projects : why are we constructing Europe ? In what ways is it important? In this, culture emerges as highly political it contributes to the creation of a project for society. Culture in this way becomes a way of formulating and experimenting with active new responses, in the face of great challenges for European society. This is the perspective that training with Learning Lab addresses.
Two training options
A short training of 2 times 3 days, based in Paris. Designed for groups of up to 15 participants, this training is a first-level exploration of practices of European social and cultural innovation.
An itinerant 6 week training, spread over a whole year, to deepen the links between culture and territory, between culture and politics. Each year, in two important and specific ways: the training takes place in 4 different European cities; and the programme is devoted to a current European cultural field (growth of populism, Europe of migrants, united European responses...), all approached from an engaged perspective.
Key point: Each of our training paths is based on individualised support. So you gain access to tailored exchange with your tutor and to collective working : a mirroring factor within your training group.
Our key figures
10 years of experience 
More than 500 people trained 
A network of more than 200 professional contributors with origins in 57 countries 
✓  Recognition of your competences with the Certificate of "Capacity for european cultural and social innovation"
Aware of the importance that diplomas can take on in our progress, Relais Culture Europe has created a certificate of « Capacity for european cultural and social innovation», validated by an independent board. 
Your training within Learning Lab allows you then to acquire competences that are recognised and validated. A real asset to assert its legitimacy in numerous employment structures.
✓  Training eligible for a bursary
The LearningLab welcomes all European cultural actors or residents of European neighbourhood countries.
In order to facilitate the participation of everyone, whether you are employed in an organisation, self-employed, looking for work, the Relais Culture Europe has set up a number of bursaries.
Check with us your eligibility for one of these bursaries. Applications must be submitted by the end of June at the latest.
✓ After-training : a major asset of Learning Lab
The Learning Lab chapter is far from closed, once your training is finished. You could even say that it is just starting! One of the major strengths of the Lab is its capacity through the years to have created a real network, a real community that is continually being enriched. 
Research and projects that began with our training, relationships formed through these sessions, do not stop when the 'lid' shuts. On the contrary, they continue to develop and lead to new cultural innovation and new exchanges. A real drive of engaged co-creation and co-reflection, all of it in the service of a Europe that is more cultural, more human and more optimistic! 
In practice, Learning Lab brings you :
✓  In terms of designing projects
Learning Lab acts like an «indicator». Through the interaction with participants and contributors from different European countries, you learn to: 
Create new mechanisms for thinking
Think and work differently, particularly at a collective level
Defuse fears about the frequently supposed complexity of projects
Take new risks that can lead to true innovation
✓ In terms of professional support
With Learning Lab personal and professional dimensions are interconnected. By encouraging you to look at your practice differently, by placing them at another level, our training also contributes  to looking differently at what you bring to your professional choices.
If you are at a point of changing direction or thinking about your progress and your career, Learning Lab helps you to imagine new paths, new partnerships and new solutions. 
✓  In terms of particular competences
With Learning Lab, you especially acquire: 
An understanding of complexity, namely the capacity for strategic European awareness
Creative development, namely the capacity to develop innovative strategies and activities
A capacity to develop your own European networking
A capacity for cooperative European working 
From the performing arts sector to health or education, Learning Lab is for all those responsible for cultural projects, wherever they may be found ! 
The Learning Lab welcomes all European cultural actors or residents of European neighbourhood countries who speak English or French.
Participants from previous years 
Since its formation, Learning Lab has mainly trained people from the cultural and media sectors (performing arts, visual arts, AV, music…), interested by the European perspective of our programmes. 
cultural entrepreneurs
artistic directors
intermediaries
artists 
directors of cultural spaces
communication officers
public relations officers
leaders
Network coordinators or managers of projects with cultural aims
Our training finds the keys to understanding the challenges they face, combining ways to work up new proposals and new projects, all with a European perspective.
Learning Lab broadens the approach 
We are convinced of this: culture is everywhere. It can help us build a different Europe. Every civil society actor can be a leader of innovative cultural projects at local and European levels, whether from the cultural and creative sectors, performing arts, press, design, fashion, education, young people, or from other sectors such as health, agriculture or finance. It is this diversity of participants that enriches our programmes!
Thanks to shared experiences, to discussions held with our contributors, to questions that arise during our sessions, new means of contributing to a European construction are being designed.