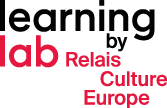 Europe at the heart of the reflection
With us, you will not just learn about how to manage projects or the way European institutions function.
Our offer is elsewhere: it is abouts rethinking the modes and logic of our work, by opening our eyes to new horizons on a European, indeed global, scale.
At stake: the emergence of innovative projects and social and cultural responses, while constantly aiming for the upsurge of a Europe of greater optimism and solidarity.